Tom's #Mailbag, June 5, 2020 | Tom's Mailbag
Submit your very own questions simply by clicking here
Questions this week about the reopening of the University of Illinois and other Big Ten schools, rebuilding the failed downtown Champaign pedestrian mall, Riggs Beer, an image on a water tower in west Champaign, the condition of south U.S. 45, the peaceful protest march in Urbana on Monday and a strange pit on University of Illinois land.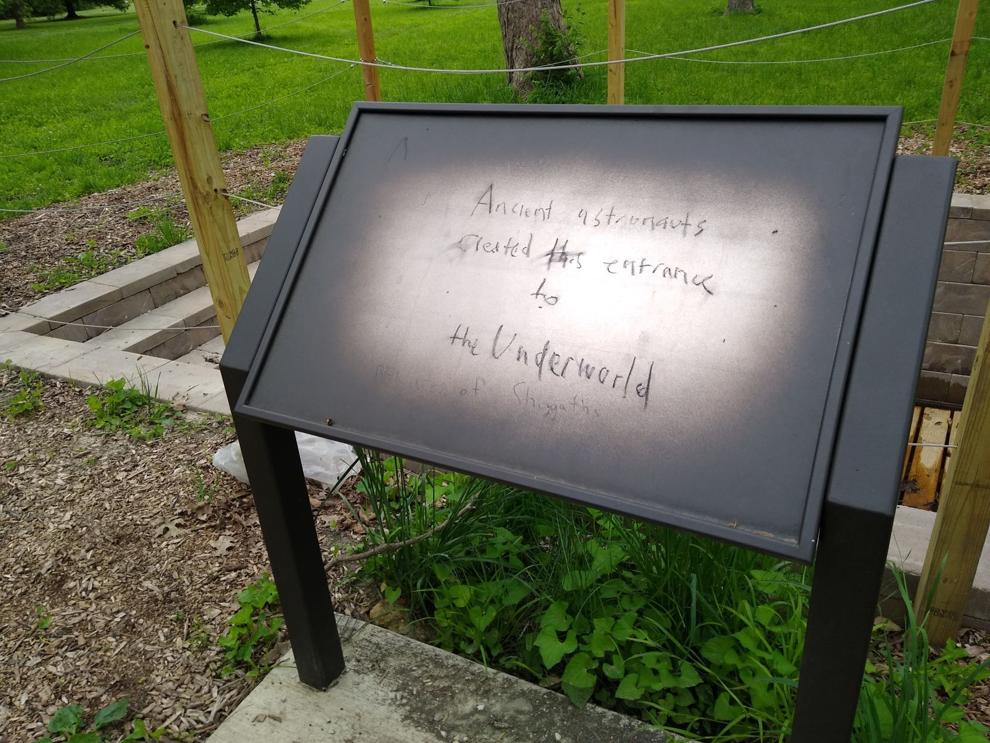 Hole in the earth
"Can you find out what is the purpose of and who is responsible for something that looks like the entrance to an underground bunker in the wooded area to the south of the Japanese gardens and to the west of the Orchard Downs apartments (about on a line where Hazelwood Drive would run). This looks like recent construction but has the earmarks of an artistic statement."
"In a nutshell," said Kevin McSweeney, director of the University Arboretum, "the walled excavation is a soil pit, representative of the state soil of Illinois, Drummer silty clay loam. The Drummer profile exposed in the pit is used for education/outreach. Examples include art, environmental microbiology, crop and science classes along with training for high school ag teachers working with students on land judging and soil judging teams for other universities in the state and region."
An explanatory sign will be installed at the site this summer, McSweeney said.
Here's a link to more information on Drummer soil which is named for Drummer Township in southwestern Ford County.
University reopening
"Will the University of Illinois bring kids back this fall just to make sure they don't lose any money? Just don't see at this point how could possibly have 45,000 students on campus safely.
"If they offer early retirement plans, how fast would they replace the retirees?
"How will this affect hiring in the trades? Most of the departments already are working with bare minimum staffing levels."
Urbana campus spokeswoman Robin Kaler said a decision on fall instruction would be made in mid-June.
"Several weeks ago, the university convened a steering group and seven teams for specific focus areas addressing issues such as academics, research, operations, university life and comprehensive, scalable testing. The safety and wellbeing of our campus and greater community guides all of our planning," she said. "The level at which on-campus instruction, as well as events and other operations can safely resume will be informed by Champaign-Urbana Public Health District (CUPHD) guidance and based on our capacity for campus and community testing and tracing."
Earlier this week, however, Provost Andreas Cangellaris said that the draft recommendation from an academic affairs team called for an end to on-campus instruction at the fall break. After that, students would return home for eight days of online instruction and six days of exams.
That seems to fall in line with what other Big Ten schools are planning.
Michigan State students will return to school in September but everyone likely will be required to wear face coverings, said MSU Interim Provost Teresa Sullivan. Classrooms, libraries, dining halls and dorms are being retrofitted to allow social distancing.
Enrollment in some courses will be capped to make it easier for students to spread out in classrooms.
To accommodate smaller class sizes, course offerings will likely be spread out more, with some held on evenings and some on Saturdays. Some classes might even be held outdoors in good weather.
The University of Wisconsin is seeking permission from state leaders to reopen before Sept. 1, which is written into state law.
"Many experts expect a spike in coronavirus cases to occur in late fall, so many institutions want to start classes early and use an expedited schedule to get through the entire semester by Thanksgiving," UW System President Ray Cross said in a letter to state officials.
At Purdue University the academic semester will consist of traditional classroom instruction from Aug. 24 to Nov. 24, with the rest of the semester completed remotely after Thanksgiving.
Ohio State President Michael V. Drake said the campus will reopen this fall.
"We are dedicated to continuing our core mission, including providing the best possible college experience for our students while operating under a set of circumstances that no one has experienced before," Drake said.
Safety practices will include a combination of face coverings, physical distancing, hand hygiene, limited-density indoors, control of the flow of traffic into and around buildings, and teleworking when possible, as well as testing, symptom-tracking and contact-tracing.
Northwestern University plans a phased return to campus.
"Our goal is to return as much of our community to campus as possible, while continuing to protect the health of our students, faculty and staff through social distancing. Even if students and faculty may safely return to campus, some courses will be delivered remotely. We also recognize that there may be students who cannot return to campus for a variety of reasons, and we bear this in mind in our planning," said a notice from Interim Provost Kathleen Hagerty.
Downtown Champaign mall
"Back in the 1980s to '90s you will recall there was a plaza where Neil Street was blocked for traffic between Main and Chester streets near the City Building. Now that Downtown Champaign has been revived for a few years and continues to get better why can't they make it a plaza again? That would make room for all the bars and restaurants to have more outdoor seating and entertainment."
Whew, that sounds like a bad idea to me.
The Neil Street plaza was removed two years before Champaign's director of planning and development, Bruce Knight, arrived at the city.
"While we are interested in adding more pedestrian space to Downtown, hence the Plaza project (the triangular site, now a parking lot, south of Washington Street and east of Neil), we are not considering closing Neil or Walnut streets to traffic as they are the major north-south arteries serving the community and bringing people to and through Downtown," said Knight.
The Neil Street pedestrian plaza had a relatively brief life, developed in 1975 in response to the opening of Market Place Shopping Center, Knight said, and taken out at the direction of new City Manager Steve Carter in 1986.
Woodburning pits
"Could you tell me the restrictions, if any, regarding wood burning for pits? I don't understand the difference between burning leaves, etc., and burning wood in an open air pit that causes a smell and also impacts people with lung/breathing issues."
In both Champaign and Urbana the city codes have an exemption to the open burning ban for "recreational campfires."
State law also permits cooking fires and campfires.
Riggs brewery
"My wife and I went on a Riggs Brewery tour within the last year. During that tour they said they were never going to can/bottle any of there beer for environmental and sustainablity reason. I was wondering what changed. I love the convenience of buy Riggs beer at the store. Just wondering what changed? Was it related to Covid-19? Is it being canned at the brewery?"
"It is absolutely and 100 percent related to the COVID-19 pandemic," said Darin Riggs, the vice president of Riggs Beer Co. "There are several reasons we were a draft-only brewery before, sustainability being one of those. But at the end of March, the draft beer market in Illinois suddenly evaporated with the closure of all bars and restaurants, including our taproom.
"We had to quickly pivot to canning to be able to continue to sell beer and to keep our team employed. As our state reopens, we will shift back to providing draft beer as our priority, but we will continue canning where we have extra beer available. Anyone can read our sustainability report by visiting our website and clicking on the 'Sustainability' tab in the menu.
"And yes, it is being canned at the brewery in Urbana!"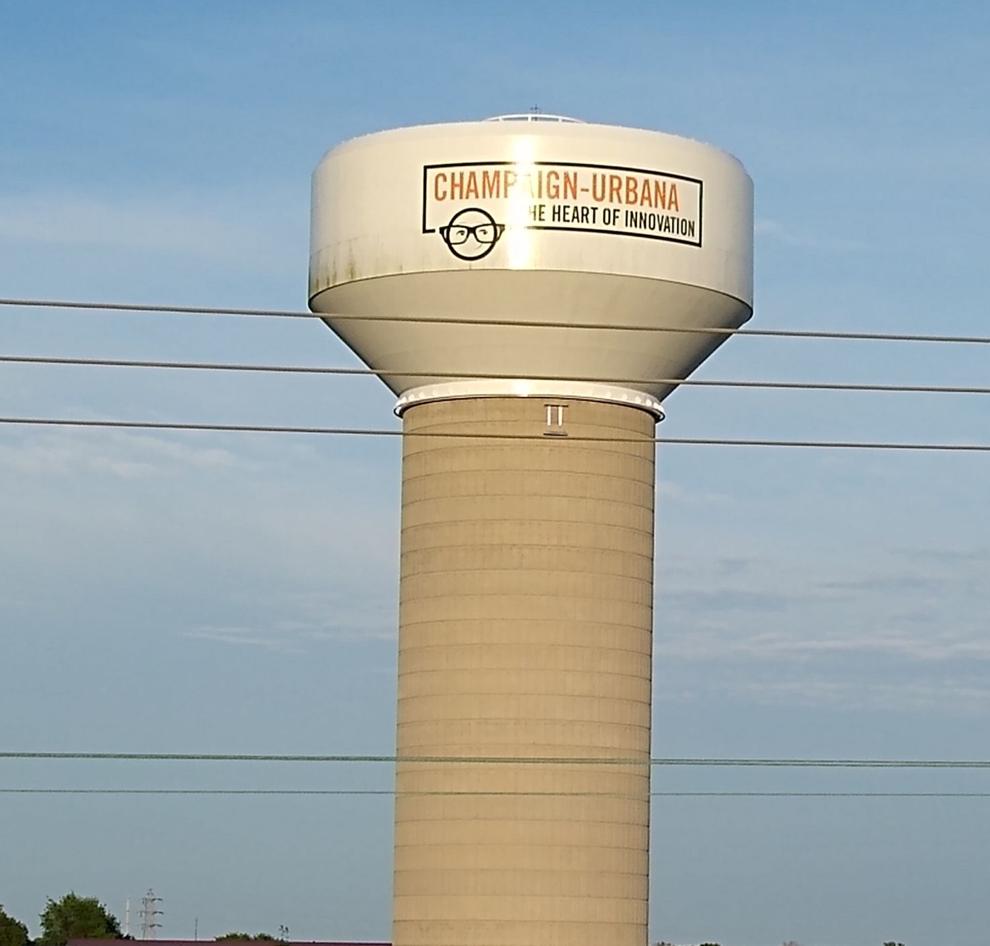 Water tower art
"Driving into University Avenue off I-72 you pass a water tower with display of a man in glasses. Who or what does that represent?"
The image doesn't represent anyone in particular. It's part of the You're Welcome CU logo of the Champaign County Economic Development Corp.
"The water tower was a partnership between Illinois American Water and Champaign County Economic Development Corporation for our community marketing campaign, You're Welcome CU," said Carly McCrory-McKay, executive director of the EDC.
"The community campaign, developed in partnership with UI Research Park and other partners, focuses on Champaign-Urbana's history of innovation," she said. "From the plasma TV to the web browser to LED technology and oh-so-delicious whipped cream in a can, we have a rich legacy. Today, we remain a hotbed of technology. To learn more about innovation in Champaign-Urbana – and view job opportunities – visit www.yourewelcomecu.com.
"Some other noteworthy CU innovations:
• Mathematica and Wolfram Alpha (Wolfram Research)
• Super Sweet Corn
• PLATO
• Residential Air Conditioning
• Sound on Film
• Holland Tunnel Ventilation System
Devonshire traffic light
"Why does the traffic light on Neil randomly turn red at Devonshire and Neil? I've seen no cars waiting to turn nor any pedestrians and it still turns red, even during 11 p.m."
That issue has been resolved.
"Due to a previous problem with the detection on the side street, the program was modified to cycle back and forth to the side street," said Kensil Garnett, the Region 3 engineer for the Illinois Department of Transportation. "The detection problem was repaired, but the program was not changed back. It has been changed back as of 5/27/2020."
U.S. 45 resurfacing
"Route 45 has a lot of potholes on the road. When will it be repaved? There's a spot in when a person turns right from Curtis onto Route 45 that dips down, it's always been like this even when a new road is paved. Will it ever be resolved?"
The only sections of U.S. 45 in IDOT's multi-year construction program (FY 2020-2025) are Prospect Avenue to Wright Street in Champaign (1.52 miles) and Springfield Avenue in Champaign to Curtis Road in Savoy (3.06 miles). Garnett said. Both projects consist of designed overlays and ADA improvements.
"The new multi-year program (FY 2021-2026) is about to be published and I can provide further information once (it) has been released," he said.
Regarding the intersection of Curtis Road and 45, Garnett said there is a manhole that is rough when turning from Curtis Road right to northbound 45.
"We will be working with the village of Savoy to determine who needs to do the work to smooth it out. This section of US Route 45 is in the multi-year program so within the next few years it will be resurfaced," he said.
Sick sycamores
"I've noticed the sycamore trees around town are very slow to leaf out and now that everything else is green they're still mostly bare.  Any ideas what's going on with them?"
"Sycamore and London planetree are very susceptible to anthracnose and that is the reason why they are always the last species to break dormancy in town and city-like environments," said Jay Hayek, University of Illinois specialist in forestry. 
The disease will not kill the tree, said the University of Illinois Extension.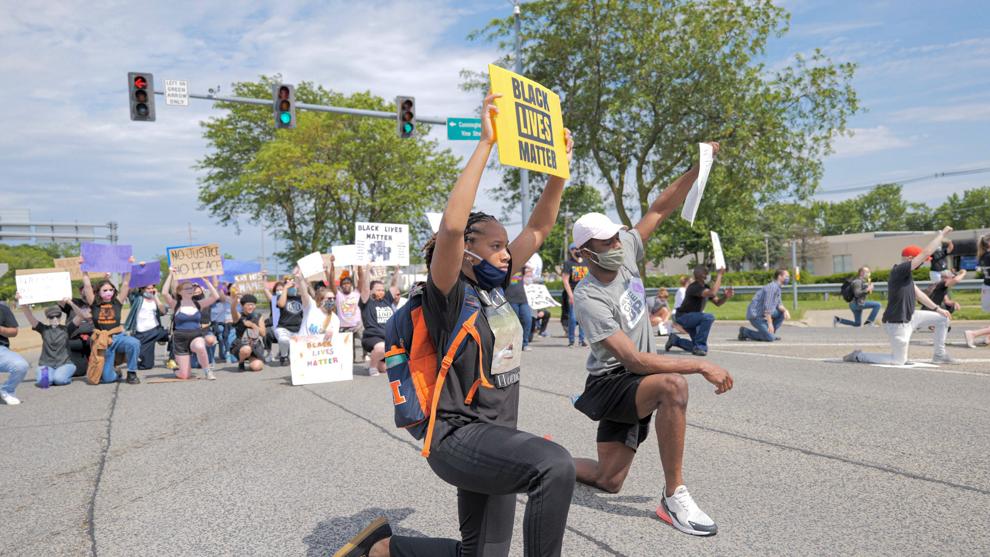 Monday march in Urbana
"Did Urbana Mayor (Diane) Marlin have a permit for her protest on Monday which blocked streets for hours?"
Both Urbana and Champaign have suspended issuing special event permits through Sept. 7 due to COVID-19, said Marlin.
"The protest gatherings are considered free speech events, and the city of Urbana does not regulate those through the permitting process," she said. "We do provide as much logistical support as possible, including traffic control, to help keep people safe.
"I thank the organizers and participants for the peaceful, purposeful march, as well as the general public for respecting the right of people to gather. At one point, at the intersection of University and Vine Street, the crowd parted so that a vehicle could get through to Carle Hospital."
Confederate monuments?
"With so many Confederate statues being taken down around the country, are there any statues in the area that might be next?"
You know that this was not considered a rebel stronghold, right?
No, this question has been asked before and, no, there are no monuments to the Confederacy in East Central Illinois. The closest thing I know of is a cemetery marker for a Confederate soldier at the Clements Cemetery north of Urbana.